News
2013.02.23 -- New Songs (from last year)
Songs from a 2012 session have been added to the Media » Music section. I also added links to the facebook and bandcamp (via Blood and Ink) pages to the navbar.

-The Webmaster
2010.12.07 -- Background Added
The Media » Backgrounds page has been empty and HTTP 404 erroring for a while. I decided to have a go at making a background (from a photo -- i'm not actually creative). I talked about it
here
. Check it out if you are hard up. The photo credit is anonymous. Let me know if it should be you.
-The Webmaster
2010.02.07 -- Music Player Fixed
I blame someone else for this. I didn't know it was broken. It worked on my machine...c'mon. Fine, I take the blame...bad coding...and bad live testing. I'll try to do better.

-The Webmaster
2009.11.27 -- New Songs // 'Soon' Redefined by Webmaster Inaction
The new songs were sent to me a while ago, and I'm just getting them on the site. I'm horrible.

On the bright side, the 'Bio' page was updated [tentatively], the music player songs were updated, and the 'Media >> Music' page was created to allow for downloading of said music.

-The Webmaster
2009.06.25 -- Content Update Coming Soon
New content is on the way. Bryan said he will send some new pictures after Cornerstone and music from the recent recording session at
Burning Bridges Studios
in Nashville. I'm excited. If you see them play at cornerstone and get any pictures or A/V footage, let
me
know and I'll post them if the band approves.
-The Webmaster
2009.06.08 -- Tracking Drums Cont.
We finished tracking drums last night; everything sounds awesome. Matt came and did his vocals and guitar as well. Thursday night we'll head down to Nashville and finish tracking everything else. If you live in the area, feel free to bring us some good southern food.
Here are some pictures Bryan took from his phone: [see
MySpace Blog
-- you'll have to sign in]
-The Satire
2009.06.06 -- Tracking Drums
Last night we set up drums at Black Lion Audio and started getting sounds. We'll be tracking the drums today and tomorrow, recording Matt's guitar and maybe some vocals. Next weekend we'll be in Nashville recording everything else with Joel at Burning Bridge Recordings.

We'll try and update with pictures and what not throughout the process, in case you're interested.

Once again, we're all stoked about working with Joel and the demo in general. Hope y'all are too.

-The Satire
2009.06.02 -- New (old) Domain
The site is back to it's proper location, at
thesatireband.com
. Additional web content coming soon.
-The Webmaster
2009.05.07 -- New Music, New Drummer, and Cornerstone
It's been awhile since we've written anything on here. Sorry about that.

We've been writing new songs with J.D., our new drummer, and we'll be recording them next month with Joel at Burning Bridge Recordings in Nashville. We're really stoked on the new stuff, and can't wait to play it.

Also, we're playing Cornerstone again this year. We're playing Encore 1 Thursday Night at 11:45, right before The Chariot. So, come and check us out if you're going!

Keep e-mailing us, commenting us, listening to the music and coming out to the shows! We appriciate everything. Thanks for the support!

-Darren
2009.05.02 -- Music player implemented
For now, old songs from The Blamed and Left Out are on the playlist. Will put new stuff up as soon as I can get ahold of it.

-The Webmaster
2009.04.25 -- Band website anniversary relaunch!
The website is back up. Our new webmaster wants to keep the content up to date and plans on harrassing the band as often as necessary to keep the content fresh and the site worth visiting.

-The Webmaster
2008.12.16 -- Line-up Changes and Stuff!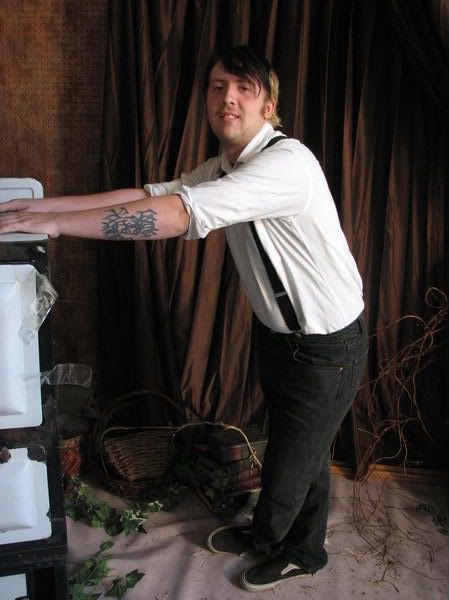 Jason will be playing his last show with us the beginning of next year. No hard feelings; we love him and wish him a happy new year. Matt is going to move to guitar. Grits was really bad at tour managing and percussion, so we just let him play bass.
Isn't he cute? Come say hi to him at our next show.
-The Satire
2008.11.08 -- Scandanavian Tour
We got back from our Scandinavian tour a few days ago. It was awesome. Benea Reach and The Chariot were great; we love them all very much. Thanks to everyone who came out to the shows; we (as a whole, I slept most of the time) had a blast. We're gonna post some more pictures soon. If you happen to have any pictures or videos from any of the shows let us know. Thanks again!

Tell all your friends!!

-Darren / The Satire
2008.06.11 -- in the process of writing/recording ...
we've started working on new songs and recording a demo recently. we should have some songs online in the coming weeks. check it out.

we're also playing shows again, so y'all should start coming out!

everyone go to cornerstone.

-darren
2006.04.30 -- more new stuff, website and songs
so the satire has officially launched our new website,
www.thesatireband.com
, included in this are two of the new songs from the electrical audio session, feb 2006. we put these songs on our website vs. our myspace site so that our website is special. that is our attempt anyways, the site isn't a flash site, we always steered away from flash, we are trying to have a nice site that anyone can check out, no matter what type of connection they have. amanda our new drummer is featured on this website also, and matt our bass player isn't, matt wants to remain as anonymous as possible. so keep emailing us, commenting us, and supporting us, we appreciate all the above.
-bryan gray
...is dead
By Anne Marie Sneisen
By Anne Marie Sneisen